MatEl builds upon advanced materials and beyond the state-of-the-art digital processing technologies to enable new integration schemes fostering the wide adoption of hybrid OEICs to industrial and biomedical applications.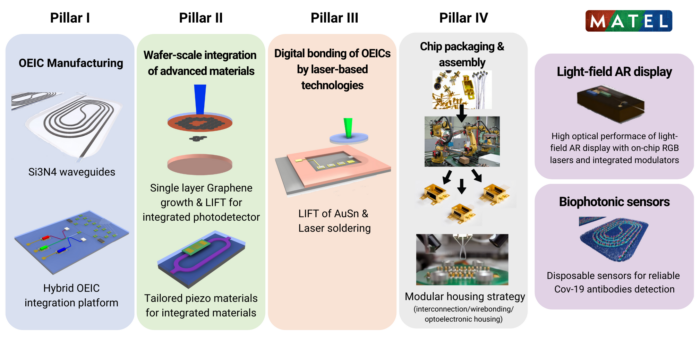 Overview
Europe is facing the challenge of adapting to a new generation of optoelectronic device requirements: high performance, multi-functionality and cost efficiency in a miniaturized footprint.
These requirements can only be achieved if novel schemes for on-chip integration emerge. MatEl offers a unique solution to this challenge
Project Full Title:
PZT and Graphene MATerials innovations for advanced opto-Electronic applications in AR and biosensing
Grant Agreement no.:
101091774
Start Date:
1 January 2023
Project funding:
€. 3 243 750
Funding program:
Horizon Europe
Call identifier:
HORIZON-CL4-2022-RESILIENCE-01
Keywords:
Optoelectronics; Biosensing; graphene; Nano-materials; Optical Sensors; Laser Physics
Objectives
MatEl's objective is to introduce novel integration schemes enabled by laser processing of advanced materials and enable the digital bonding of heterogeneous components for the next generation of OEICs.
Wafer – scale integration of high-quality and defect-free advanced materials
Hybrid Si3N4 wafer platform featuring etched pockets compatible with heterogeneous active components (III-V, II-V chips and electronic chips)
First fully digital, laser-based wafer processing and die-bonding
Generic housing for hybrid OEICs with diverse functionalities
Demonstration of two optoelectronic end-applications
Impact
MatEl's vision of enabling multiple functionalities in a miniaturized footprint will pave the way for a broad spectrum of next-gen optoelectronic applications, strengthening the EU's photonics and microelectronics industrial capabilities.
Expected impact:
Next generation of OEIC-based devices: wide-bandwidth, minimized losses & multifunctionality in miniaturized form factors
Lowering the barriers for ΟΕIC uptake by high-tech SMEs
Strengthening the EU's industrial capability in photonics and microelectronics
European strategic autonomy in OEICs
New employment positions in innovative SMEs
Green and digital manufacturing approach fostering chemicals and waste minimization
Improved quality of life and longevity of EU citizens